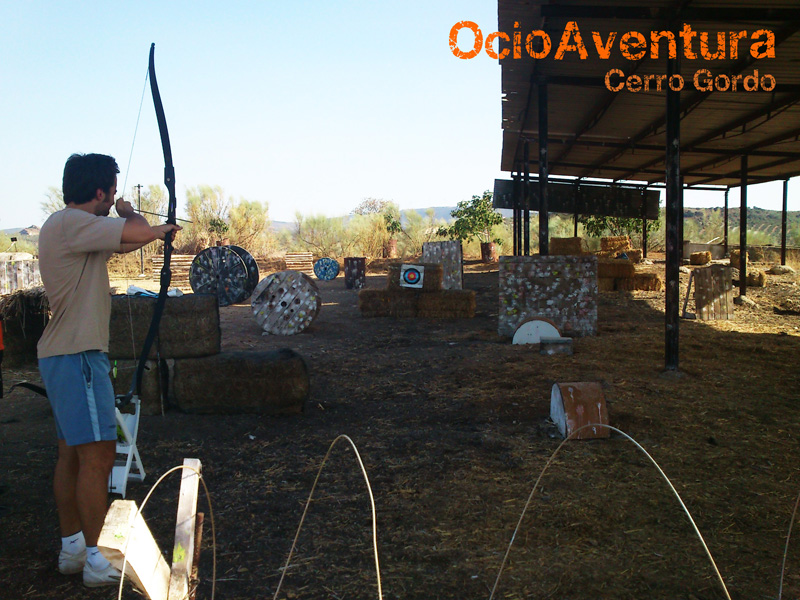 Activity description
Nowadays, archery is a sport which consists of using a bow to shoot arrows. Its origins are in the use of this weapon for hunting and battling in wars. With the invention of firearms, it became obsolete and it started being used just for sports and leisure purposes.
OcioAventura Cerro Gordo offers you the opportunity to practice this sport, inside our facilities in Cuevas Bajas (Málaga), so you will be able to enjoy archery near Málaga, Córdoba and Granada. Our shooting range is located in the heart of the Mediterranean hills; this will make you breathe the purest air while testing your aim.
Who is this activity aimed at?
This sport is perfect for both children and adults.
You will be accompanied by a specialized instructor at all time, who will help you in the course of the activity. We will also provide you all the necessary equipment.
Prices
With no arrows limit: €15 per person (up to two hours length).
PACKS:
ARCHERY + HORSE RIDING AT OUR RIDING SCHOOL.

ARCHERY + CLIMBING ON ARTIFICIAL ROCK WALL.
TIRO CON ARCO + TIROLINA
ARCHERY + ZIP LINE.
ARCHERY + RAPPEL.
ARCHERY+ RAFTING.
ARCHERY + PAINTBALL.
ARCHERY + BARBECUE.
ARCHERY + RURAL ACCOMMODATION.
Gift voucher
If you wish to give a special and different gift, ask for a gift voucher.