ENTERTAINMENT FOR CHILDREN AT FIRST COMMUNION CELEBRATIONS IN ANTEQUERA, LUCENA, ETC.
In the provinces of Málaga, Granada and Córdoba.
2022 FIRST COMMUNION CELEBRATIONS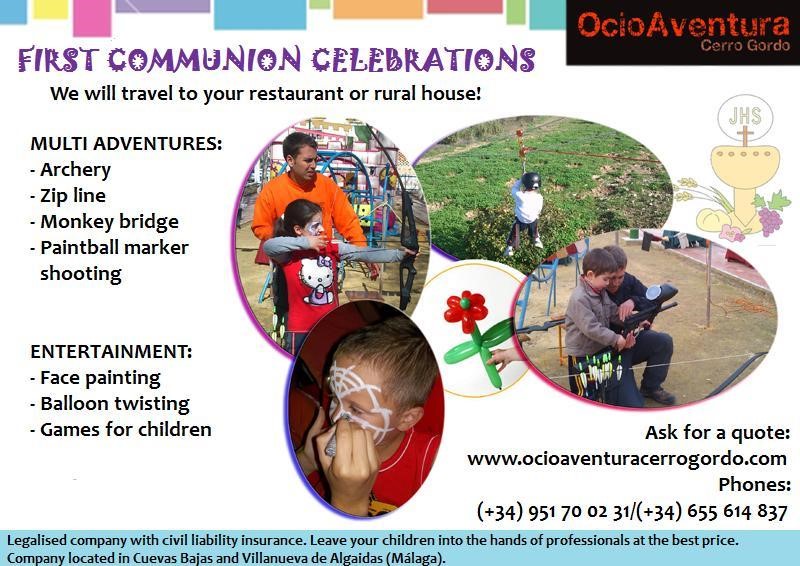 WE WILL TRAVEL TO YOUR RESTAURANT OR RURAL HOUSE in the provinces of Málaga, Córdoba and Granada. We will travel a maximum of 19 miles around from our facilities in Cuevas Bajas.
Entertainment for children at First Communion celebrations in Antequera, Lucena, Rute, etc., with multiadventure activities and games (sports instructors in charge). There are constantly more families which want to spend an unforgettable First Communion day. Nothing better than practicing original activities and sports into the hands of professionals.
We offer activities for First Communion celebrations such as:
MULTIADVENTURE ACTIVITIES
Zip line.
Monkey bridge.
Archery.
Paintball marker shooting.
ENTERTAINMENT
Balloon twisting.
Face painting.
Traditional and modern games for children.
Information to keep in mind:
For the zip line, we will need an incline and two attachment points. For the monkey bridge, we will need two support points. The rest of the activities can be carried out at any place, as long as the area is suitable.
We can also mount a paintball camp with inflatables if the space is large and the environment suitable for the practice of this sport.
Depending on the age of the participants, the activities will be adapted to different activities.
PRICES FROM €260 (two hours with two instructors).
Ask for a customised quote for these activities and entertainment for children at First Communion celebrations in Antequera, Lucena, Rute, Archidona, etc., 18.64 miles far from Cuevas Bajas.
Our instructors are specialists in this sector. We provide civil liability insurance and all the required equipment to spend an unforgettable day.