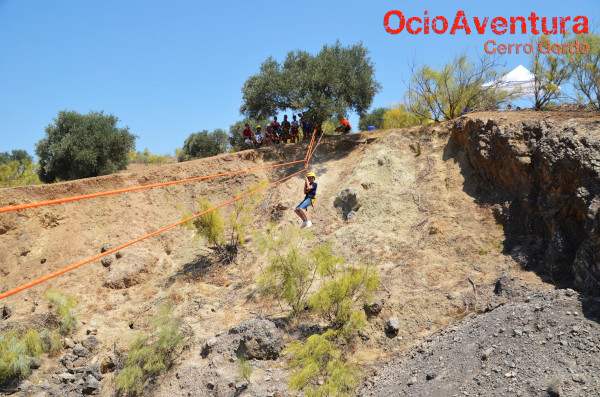 Activity description
A zip line consists of a pulley suspended by cables mounted on a slope or incline. They are designed to be propelled by gravity and slide from the top to the bottom through a cable or rope. It is a usual practice in military exercises.
Zip lines types are varied and used frequently for entertainment. The ones used for children games are short and tiny. The largest and longest ones are use to access to hardly accessible places, or at some campsites with outdoor activities.
We offer you the possibility to practice with the zip line in the heart of Andalucía, one hour far from Málaga, Granada or Córdoba, and twenty minutes far from Antequera or Lucena. We can also mount the zip line wherever you whish for any kind of event.
Who is this activity aimed at?
This sport is perfect for both children and adults.
You will be accompanied by a specialized instructor at all time, who will help you in the course of the activity. We will also provide you all the necessary equipment.
Prices
€17 per person (ask for prices in case of groups of people or if you need information about packs with other activities too).
PACKS:
ZIP LINE + CLIMBING ON ARTIFICIAL ROCK WALL
ZIP LINE + ARCHERY
ZIP LINE + RAPPEL
ZIP LINE + RAFTING
ZIP LINE + PAINTBALL
ZIP LINE + BARBECUE
ZIP LINE + RURAL ACCOMMODATION
Gift voucher
If you wish to give a special and different gift, ask for a gift voucher.