Activity description
Paintball is a game where players use markers (the term "gun" is usually avoided) activated by compressed air or  CO2 to shoot paint balls to other players.
It is generally a complex strategy game where players who are reached by the paint balls are sometimes eliminated from the game.
Contrary to popular belief, is one of the safest outdoor sports, so if you want to participate in a real strategy outdoor game, come to enjoy and play paintball with us in Antequera, Málaga.
Requirements
– You do not need any previous experience to participate in our paintball activities in Antequera, Málaga (also near Granada). You will just need agility and skills to carry out a good strategy.
– It is not necessary to be fit.
– The minimum age to participate in our paintball activities in Málaga and Granada is 14 years old, as long as you have a parental written permission (just until the 18 years old). We also offer PAINTBALL FOR CHILDREN under 14 years old.
– Groups of six people minimum.
– BE READY TO ENJOY!

Personal materials required
To participate in our paintball in Antequera (Málaga) or Granada, you will need:
Trainers (not sandals or flip-flops!).
Comfortable clothes.
PaintballPaintball equipment provided by usb>
Protective overalls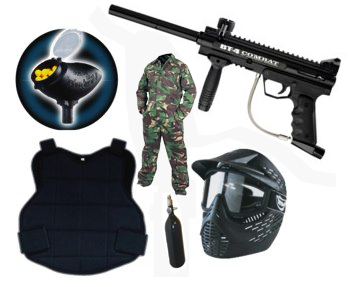 Mask
Protective neck brace
Body armour
Paintball marker
Specialised instructor.
Civil liability insurance.
Prices
Daytime paintball (near Málaga, Antequera, Córdoba and Lucena): €20 per person (groups with more than 6 people)
Offer from October until March: €18 per person (groups with more than 6 people)
Nighttime paintball in Málaga (on summer): €25 per person
It includes: 100 balls, instructor, all the required equipment and civil liability insurance.
Price per refill of 100 balls:  €6/each refill
ASK FOR PRICES IN CASE OF LARGE GROUPS OR IF YOU NEED INFORMATION ABOUT PACKS WITH OTHER ACTIVITIES TOO.
Weekend offer (rural and adventure holidays)
(includes two days and one night).
Packs (including other activities):
PAINTBALL + RAFTING ON RÍO GENIL
PAINTBALL + MULTI ADVENTURES (CLIMBING, RAPPEL, ARCHERY, ORIENTEERING, ETC.).
PAINTBALL IN GRANADA + CANYONING ON RÍO VERDE (GRANADA)

PAINTBALL + BUNGEE JUMPING
PAINTBALL + BARBECUE
VÍA FERRATA + RURAL ACOMODATION
Gift voucher
If you wish to give a special and different gift, ask for a gift voucher.
Download: